Last fall I started reading a blog called Bella Mella by Melanie Clark.
I love her sensible fashion tips that she provides.
And then suddenly in August she put a post up asking for prayer for her 12 year old son Andrew. And all her fashion tips were set aside.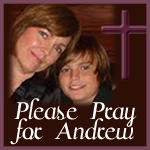 The Clark family would find out their son would have brain cancer and life as they knew it would never be the same. Andrew's skateboard that he rode on daily was put down as he would be taken to doctor's appointments and even checked into the hospital.
Prayer after prayer from all over the country bombarded the throne room of heaven on behalf of Andrew.
Hoping, begging God for a miracle.
Wednesday, December 15th Melanie and her family ushered Andrew into the arms of his Creator.
So as we are stressed about getting the right gift, enough gifts, the perfect gift,
Melanie is picking out what to bury her 12 year old son in.
Choosing a casket to hold his body.
Songs.
Pictures.
Going through his empty bedroom and getting his favorite stuff to display at his funeral.
Holding his skateboard he'll never ride again.
And in the midst of this horrible storm that just started last fall,
she is choosing to keep her eyes focused on Christ.
Her ending of her post says:
I would say Jesus is definitely the reason of her season.
The season of her life she never thought she would be going through and yet she chooses to bring honor and glory to her King.
Want to give someone the perfect gift this Christmas?
Give them Jesus.
Keep focused no matter what on Him, because you can get sucked in so quickly to the demands of this world.
If you would've told Melanie that her youngest of 3 children would be dead before Christmas,
she would've never believed your news.
Andrew was healthy and was riding on a skateboard more than he walked
just days before his diagnosis in August.
BUT
if Melanie did have a heads' up of her son's death,
her panic wouldn't have been over where Andrew was going to spend eternity.
Her actions would have been the same ones she displayed these last 3 months.
She would have tried to find a way to save his life, buy them more time, make him comfortable, ask others to pray,
but never worry about where he was going.
Why?
Because Andrew knew Jesus.
And in the last days Melanie had with her son on earth,
she didn't ask him to make a Christmas list and then run out and join the mad shoppers to
buy him the
best skateboard,
latest video console or i-pod.
Instead, she sang songs about Jesus to him,
read the Bible to him,
prayed over him
and laid in bed with her Andrew.
And with his last breath, her 12 year old son reminded her that
He gave her Jesus
for Christmas.
Let's keep the X out of CHRISTmas
and remember that Jesus is the reason for the season.
Merry Christmas
and a
Happy New Year
.
Only a Mother can describe her child's last moments in such a beautiful way...
please click
here
to visit Melanie and leave her an encouraging message.
Love,